Group Classes Timetable
2018 Term Dates
Term 1: Monday, January 29- Saturday April 14
Term 2: Monday April 30 - Saturday June 2
Term 3: Monday July 16 - Saturday September 22
Term 4: Monday October 8 - Saturday December 15
Time

Mon

Tue

Wed

Thur

Fri

Sat

9.30am

Pilates Floor
Level 3/4

COMBO
gymstick plus
Level 2/4


Release & Relax




All Levels

10.30am

Pilates Essential
Entry Level



Pilates Essential


Entry Level




4:30pm




Pilates Essential

Entry Level

5.30pm

6.30pm

Release & Relax




All Levels

Pilates Essential
Entry Level


Fees & Memberships:
Term 1 , 2018: Monday, January 29 - Saturday April 14
1 Class per week
Monday - 9 weeks - $153 (earlybirds $144)
Friday & Saturday - 10 weeks - $170 (earlybirds $160)
Tuesday, Wednesday & Thursday - 11 weeks - $187 (earlybirds $176)
2 Classes per week
19 Classes - $304 (earlybirds - $275.50)
20 Classes - $320 (earlybirds - $290)
21 Classes - $336 (earlybirds - $304.50)
3 Classes per week
30 Classes - $435 (earlybirds $375)
31 Classes - $449.50 (earlybirds $387.50)
33 Classes - $478.50 (earlybirds $412.50)
To receive the earlybird special payments must be received by January 15

12 Month Membership
For those of you wishing to do 3 or more classes a week there is a 12 month membership available. Memberships are limited, so you need to let me know as soon as possible if you are interested.
Cost of the membership for 2018 is $1220.
You may book into any 4 classes of your choice providing there are vacancies. you can attend as many extra classes as you wish providing there is room.
Attend 4 classes per week cost per class = $8.71.
If you miss approx 10 weeks cost would be approx $12.20/class.
Attend 3 classes per week cost per class = $11.61. If you were to miss 1 full term cost per class would be around $16 per class.
There are 12 casual classes in April and December that will also be included in your memberships.
PLEASE NOTE: For 2018 Jan casual classes ARE NOT included in your membership nor are any casual classes held in June & July while I am away on holidays.
Barre Classes are included for 2018.
There are no credits or refunds.
The saving varies depending on how many extra classes you attend or on the other hand how many you miss.

Bookings Essential for all Classes

Bookings will only be confirmed once payment has been received.
Call Ann on 0447 044366 for bookings,
Bookings are essential for all classes, book early to avoid disappointment as classes book out.
Payments may be made by cash, Money Order, cheque or direct debit via the internet.
Venue: Ace House cnr Spencer & Stirling Streets, Bunbury. Enter from Stirling Street, Unit 3 upstairs.
Class Information:
Classes: There are four terms held each year, they normally run in conjunction with School Terms.
Bookings are essential as limited places are available.
Payment: Payment is upfront and classes need to be paid in full before the start of term. Each term there is an early bird discount offered. Payment can be made by cash, cheque or direct debit.
Casuals: $20 per class - Experienced Pilates participants may attend on a casual basis providing there are vacancies - preference will be given to block bookings. Casuals are not normally accepted in the Essential class as this is a progressive class and to get the full benefit you need to attend for the full term.
Missed Classes: Refunds are not available, but you may make up a missed class by attending another class, provided it is during the same Term. Classes will not be carried over to the next term.
Credits: Will only be given in special circumstances and will require a doctor's medical certificate. If a credit is given there will be an admin charge. You will be given a credit to attend classes at a later date when you have been cleared by your medical professional.
Please note: This should be within a reasonable time in keeping with your injury or illness. (Credits not used within 6 months will expire unless arrangements have been made for an extension)
Private Heath Rebates: As I am now a registered business with Fitness Australia the following Funds are offering a rebate for my services depending on your cover. Some just require a receipt/ Others also require a form filled in by your health professional. (List available on request)
Funds: AHM, Westfund, HIF, NIB, Health Partners, Teachers Health Fund, Qld Country Health, HCF.
Class Descriptions:

Pilates Essential - Entry Level
For people who are new to Pilates.
A structured beginners program designed to introduce newcomers to the Pilates method & principles. At this level you will learn the fundamentals of Pilates. There is a strong focus on posture, body awareness, breathing & learning to use stabilizing muscles of the body along with learning to maintain optimal Alignment, Breathing & Control with each new movement. The breathing is a huge part of this technique and it is often the hardest to perfect.

Pilates Floor - Level 1
Once you have mastered the fundamentals, we move to the next level in your journey of Mat Pilates. Small props such as resistance bands, Pilates circles, exercise balls and light hand weights will be slowly introduced to add variety to your workout. Focus will still be on you working at a level you are able to maintain your Alignment, Breathing & Control.

Pilates Floor - Level 2
This class takes you to the next level of your journey. Here we take it up a notch as we focus on further developing strength, stability, flexibility and broadening your Pilates repertoire of exercises. By now you should have mastered the breathing and starting to be able to correct yourself. By emphasizing proper breathing, correct spinal alignment in the lower levels you are now able to concentrate on smooth, flowing movement and being in tune with your body.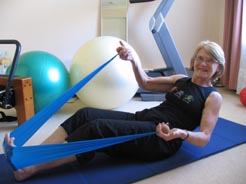 Pilates Floor - Level 3/4
This is an intermediate to advanced class and a good understanding of pilates is required, It moves at a faster pace, you will require the strength and knowledge to participate. Focus is on further developing strength and learning more challenging movements. You should be able to self correct.
The use of small props such as: resistance bands, rollers, circles, ankles & hand weights, various sized balls all help further enhance strength, stability and add variety to your workout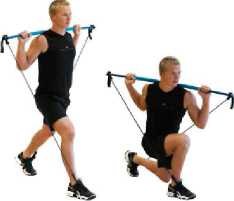 COMBO - Gymstick plus +- Level 2/4
A total body strength & fitness workout utilizing the Principles of Pilates.
Introducing blocks of exercises from the Barre Attack workout. Work through a series of exercises that challenge your muscles allowing you to improve strength and balance while maintaining core stability. You need to have mastered the fundamentals  to join us in this class. The Gymstick comes in different resistance levels from light to extra strong. The use of foam roller, handweights, exercise balls & flex balls add variety to your workout. (It's a GREAT WORKOUT)
Release and Relax: Suitable for all levels
(It is recommended but not compulsory that you attend a term of Pilates essential classes in order to get a better understanding of your body & movement)
Release tension and stiffness in the neck, shoulders, back and legs.
Focus is on releasing the whole body utilizing the principles of Pilates through a series of myofascial release, poses & stretches. With the use of the various props such as chi balls, massage balls, bolsters, foam rollers. massage balls ect to increase sensation and awareness of the joints and muscles.
Total Barre TM Suitable for all levels
(It is recommended but not compulsory that you attend a term of Pilates essential classes in order to get a better understanding of your body & movement)
A pilates/dance based workout at the ballet barre, designed to build muscular endurance and to be a fun and motivating form of exercise. It is designed to emphasize the correct biomechanics of movement. TotalBarreTM incorporates simple choreography with an emphasis on building strength, power, flexibility and balance.
FANTASTIC at toning your butt, thighs, tummy and arms!!