What is Pilates?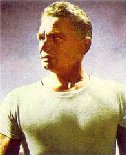 Pilates has been around for over 50 years: Developed in the 1920's by the legendary physical trainer, Joseph H. Pilates, the Pilates Method is a series of approximately 1000 exercises across a wide range of specially designed exercise equipment, used for Fitness Pilates and Rehabilitation Pilates.  However it has only really become popular in Australia over the past years.
Pilates can be defined as a body conditioning program emphasising the inner core unit.  The focus is to improve posture while the goal is to teach people body awareness and to use the muscles that have an important stabilising role in movement, even if we can't see them.
Many forms of exercise create tightening of certain muscles while overstretching others, Pilates aims to create a balance in the body, with stretching and strengthening the muscles at the same time, to acheive the bodies optimal levels. 
"A few well-designed movements, properly performed in a balanced sequence, are worth hours of doing sloppy callisthenics or forced contortion." Joseph Pilates
The important thing to understand with the Pilates method is that it takes time to develop the ability to recruit local muscles and to learn how to effectively work through exercises without the global muscles dominating.  Pilates is all about progression through body awareness and local muscle recruitment.


The principles
The principles are the foundation of strong and effective movement. Pilates participants will benefit from this unique form of exercise, not only in class, but in life. Adopt these principles in general living and reap the rewards. Pilates offers peak physical conditioning working from the inside out.
To fully benefit from the Pilates method, you must learn to flow from one movement to the next, building stamina and cardiovascular fitness with the following basic exercise regime:

The Principles that Joseph Pilates identified are:
Centering
Alignment
Breathing
Control
Precision
Flowing movement
Integration

Mat-based Pilates
Our classes are mat-based Pilates. The goal of mat work is to stretch and strengthen the body while focusing upon control and posture. Pilates is designed to work directly with the deepest muscles in the body to create a strong core without the pain of associated with traditional exercise. As you stretch your muscles, you strengthen them. Throughout the floor class, there is no fear of your muscles not being warmed up. There is no tearing of muscle tissue or jarring impact on your joints. Each exercise we teach has a prescribed maximum number of repetitions. Unlike many gym classes where they perform endless repetitions, the Pilates method assumes that if you are doing the exercises correctly, your muscles would be working so precisely and efficiently you would not need to do any more.
Your goal when participating a mat-based class should be to master the beginner exercises, giving your body a chance to perform them correctly. This takes both persistence and patience. Don't give up easily as practice makes perfect!! You will find yourself working new muscles that you didn't know you had. Even some of our fittest athletes have had difficulty performing some of the most basic movements.
The Pilates mat work is designed to accommodate all levels of fitness. You must start slowly and progress slowly, never pushing your body past the point of comfortable movement. The movements of the mat work are structured around the abdominals, hips, buttocks and lower back - the 'powerhouse' of the torso. These movements are instrumental in maintaining good posture and alignment.

For more information on Joseph Pilates
goto www.joseph-pilates.info