Frequently Asked Questions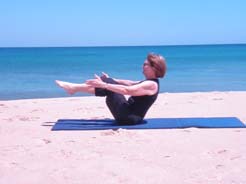 What is Pilates?
Check out the "What is Pilates?" page to find out more about Joseph Pilates and the formation of Pilates.
Who is it for?
Anyone committed to improving their total fitness, posture and appearance.
Those wishing to reduce mental and physical stress
Mild back pain sufferers (*this is not rehabilitation Pilates)
Those wishing to improve sports sports performance
Those who require more specific guidance for their exercise program
Those requiring more stretching and strengthening of their musculature
Those requiring an injury prevention program.
The elderly who require a gentle, yet effective regime.
--------------------------------------------------------------------------------
What will it do for me?
* Flatten & tighten tummy
* Improve flexibility & posture
* Decrease lower back strain
* Give you an overall body workout
* Improve co-ordination & balance
* Improve pelvic & spinal stability
* Increase Muscle Strength - particularly the abdominal muscles, lower back, hips and buttocks (the core muscles of the body)
What should I wear to a Pilates class?
Comfortable close-fitting clothes are best, because your instructor will want to make sure your body is moving with precision. No footwear is required.
What should I bring to Pilates?
We recommend that you bring your own towel &water bottle. (Mats are provided)

Is it safe to practice Pilates when pregnant?
It is recommended that you consult with your doctor before embarking on any exercise program. Prospective clients should seek a Pilates instructor with ante natal /post natal qualifications. Open communication and feedback is extremely important between every pregnant client and her instructor.